Just weeks after his friend was shot and killed on South First Street, Pertelle Gilmore got a frantic phone call from a woman he knew.
"She said, 'Look, I'm in a car with a guy right now and he has a gun,'" Gilmore said. "'He's arguing with another guy on the phone.'"
Gilmore had been speaking out that week about how the community must do something to address the sudden rash of shootings and homicides that he said had plagued Charlottesville's Black community since fall. He hadn't made any plans, but that didn't matter. This situation was unfolding before him.
"This girl said, 'I know what you said your goal is, and I'm calling because if I get out of this car, somebody is going to die,'" Gilmore said.
He jumped into action. He called around until he found someone who knew the man with the gun. He and his friends quickly identified everyone involved and sent people to "talk common sense" to them. 
In the end, it was a shootout that never happened.
"In my heart, I feel we saved a life," Gilmore said.
The incident gave Gilmore and his friends an idea. 
Increasing violence
Shootings in Charlottesville skyrocketed over the past few months. Confirmed incidents of shots being fired within the city limits nearly doubled in 2020 from previous years — and most of that happened since June.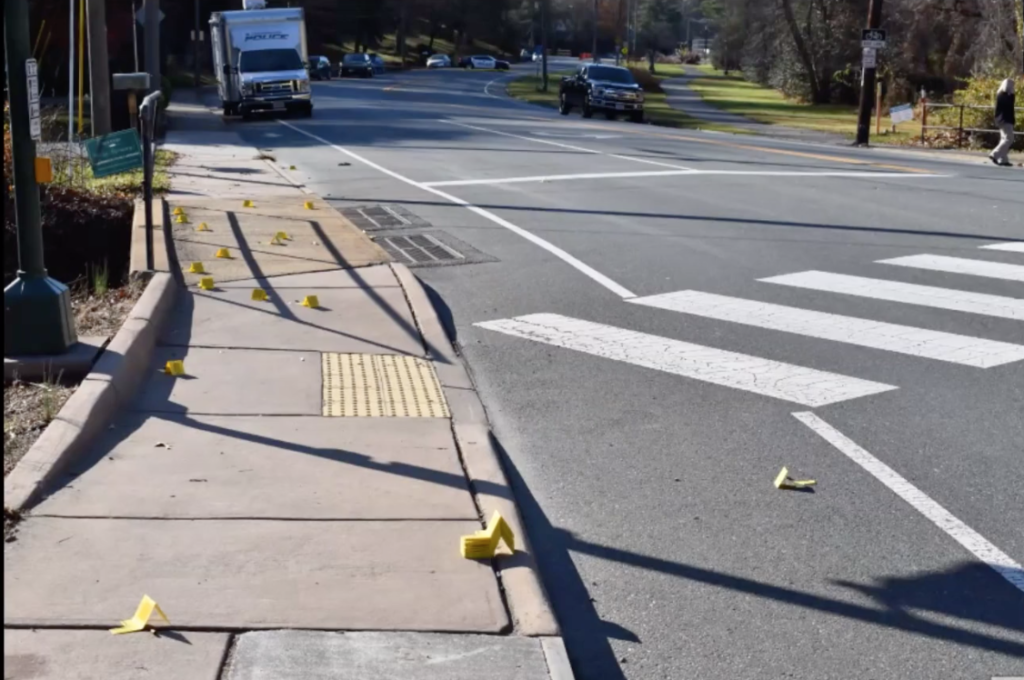 A Charlottesville Police Department crime scene photo of a recent shooting.
Credit: Photo courtesy of Charlottesville Police Department
Meanwhile, five people were shot in the city since November. Three died. In a city that averages less than three homicides a year, the increase is striking.
Many of the recent shootings have happened in predominantly Black neighborhoods. The people who live there are a bit puzzled as to why the violence has increased so dramatically. 
Some theorize that the coronavirus pandemic is playing a role. People are home more; many have lost jobs. That kind of stress exacerbates existing issues in homes and communities — and may be pushing people past their breaking points.
Add to that the reluctance of many in the Black community to call police, and the results can be fatal.
Against that backdrop, Gilmore thought, maybe what people in a community fearful of police — and with rapidly increasing instances of violence — need is simply someone to call for help.
It's a simple idea that's gaining momentum fast.
Gilmore and his friends formed a group they call The Buck Squad, so named for a friend who was shot and killed Dec. 27 on First Street. Members of the group have been passing out their personal phone numbers to anyone in Charlottesville's Black community who will take them. 
Separately, another group of Charlottesville friends has created a hotline that also offers conflict resolution to the community. That group is called Sit Downs Before Shootouts: Peace in the Streets.
An earlier version of this story included information about their hotline. However, the group requested that their information not be included in a story with the Buck Squad.
For the Buck Squad, conflict resolution is a key component of addressing the violence in Charlottesville's streets. The group has what are essentially on-call mediators in key Black neighborhoods around the city ready to enter potentially fatal situations and talk people down.
Credit: Mike Kropf/Charlottesville Tomorrow
The group already has interrupted several fights between people that may have otherwise escalated to violence, they said. 
"We did four conflict resolutions our first week, and that was the first week in months there were no shootings," Gilmore said. 
At the same time, the group is hosting a weekly meeting for people who are on the "wrong path" and want help to change.
To their surprise, the meetings have been well attended, they said. 
"They're going down the wrong road," said Herb Dickerson, a co-founder of the Buck Squad. "And hell's to pay at the end of that road. It's either a bullet or the police. There's nothing in the middle. You're either going to the penitentiary or the graveyard. And I've seen so many cases of it."
That's a path Gilmore knows well. He is a former drug dealer who spent time in prison and did things on the streets that he "can never talk about." And he turned his life around. 
Dickerson, his mentor, has a similar story.
"We helped create this problem," Gilmore said. He looked at Dickerson, who was sitting across from him at a large table. "His generation to my generation did. And what's happening now is an evolution of that. And now, we've got to help change it. It's time, we can't wait. Because we don't know when the next shot is going to be fired."