Development Digest
Development Digest is a weekly round-up of the most significant buildings being planned in Charlottesville and Albemarle County.
A new apartment complex moves another step closer to groundbreaking  near Hollymead Town Center, with Albemarle County's Board of Supervisors passing a resolution for Virginia Housing Development Authority to help finance construction for the mixed-income development. 
The nearly 18-acre parcel of land will contain about 261 apartments, with 53 of those to be reserved for tenants that fall at or below 80% of area median income. 
The Berkmar Apartments will include 10 three- and four-story apartment buildings with garages on the ground floor of some of the buildings, along with a swimming pool and a clubhouse with a gym. 
The Breeden Co., which is developing the project, said it is "still working on getting an official address set up for the site."
They said construction is expected to begin in the spring of this year.
Address: Berkmar Drive

Scale:  average apartment size is 1,096 square feet

Affordability requirement: 20% of apartments are restricted for people below 80% area median income

Amenities: pool, gym, and clubhouse. Garages in select buildings
Downtown bike lanes "going green"
Bike boxes are painted onto the road at the intersections of West Main Street, Jefferson Park Avenue and Ridge-McIntire Road.
Credit: Charlotte Rene Woods / Charlottesville Tomorrow
Swapping a fuel-burning automobile with a bicycle when possible is one way to reduce emissions. That's also where infrastructure like bike lanes in urban design can be helpful — and now the city of Charlottesville is making the act safer at some key intersections in town. 
The city is "greening" the intersections of West Main Street and Jefferson Park Avenue as well as West Main and Ridge-McIntire Road with pavement markings. The green paint, which was installed this week, will make it safer for cyclists to navigate alongside vehicular traffic by providing greater visibility in bicycle-only waiting areas. The locations will foster safer travel for left turns onto Jefferson Park Avenue, and "clarify westbound travel on West Main Street," city officials said.
According to Amanda Poncy, bicycle and pedestrian coordinator for the city of Charlottesville, the project has been in the works for a few years and reflects improvements that are envisioned in the West Main Streetscape project. Poncy also noted how the more prominent cycle waiting points can help encourage bike ridership in town. 
"If an intersection is uncomfortable, people will choose not to ride, avoid the intersection completely by finding an alternate route or choose to ride on the sidewalk, which endangers pedestrians and is illegal in the city," Poncy explained. "Bike boxes give cyclists a designated waiting area in front of stopped cars during the red light phase, making the cyclists more visible and their movement more predictable when the light turns green."
Address: West Main Street intersections with Ridge-McIntire Road and Jefferson Park Avenue
County housing policy gets an update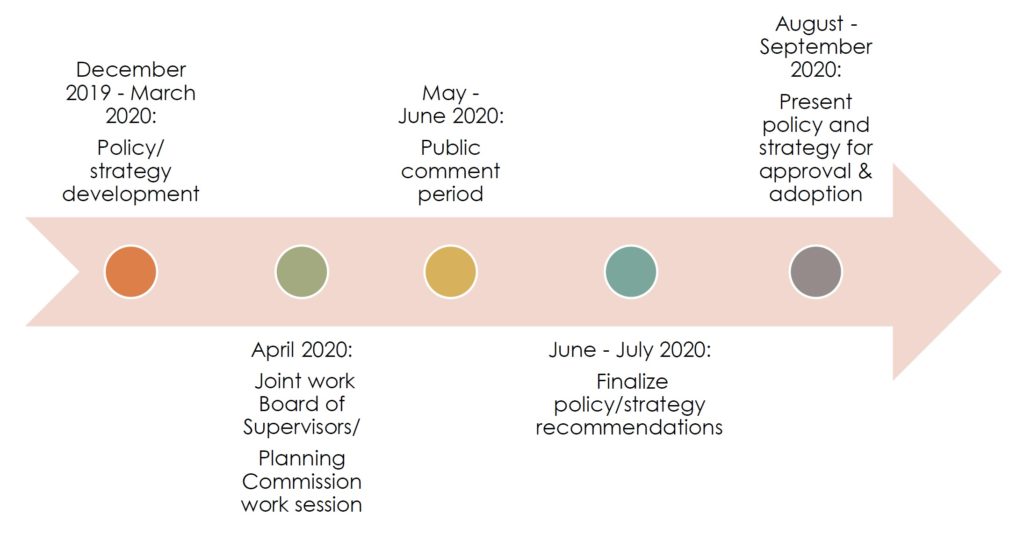 Credit: Albemarle County
At this week's Board of Supervisors meeting, principal planner Stacey Pethia gave a presentation on Albemarle's housing policy. 
She explained the various community engagement strategies that took place in the fall of 2019 along with the topics that emerged from those. 
According to Pethia's presentation, some concerns expressed through community engagement have been expensive housing, lack of accessible housing for seniors and people with disabilities, a variety of housing types needed, the need to address sustainability and that a lack of affordable housing has "wide ranging impacts."
Pethia also said that resource barriers were a topic to come up. 
"There's an ever-decreasing amount of funding from state and federal government for housing programs," Pethia said. "There's a lot of focus on the Dillon rule and the fact that Virginia's legislature really restricts what localities can do to address housing. We don't have that flexibility to try new things."
Pethia spoke about the stakeholder meetings composed of nine people who represent various groups in the county to include, senior citizens, local employers, IMPACT, the regional housing partnership, the homeless community, homeowners, low-income households and the city of Charlottesville. The group has had input in policy development. 
As for next steps, first, the policy and strategy development is expected to continue through March. By April, there could be a joint work session between the Board of Supervisors and Planning Commission, along with a public comment period through May and June. By July, policy and strategy recommendations can be finalized so that August through September could see policy approval and adoption.
Form-based code ordinance for downtown strategic investment area to receive more deliberation by NDS and Planning Commission
This week, a City Council agenda item included an ordinance for a zoning request change in the downtown Strategic Investment Area. 
Form-based code, unlike traditional zoning code, focuses on the physical forms of buildings and spaces.
"What we want is a pedestrian environment that allows for us to meet some of the goals in our Comprehensive Plan," said Brian Haluska, principal planner for the city. "Nodes of activity, lots of eyes on the street, people out and walking, taking advantage of nice sidewalks, … going to restaurants."
Haluska said that the form-based code could encourage more walking and less driving along with more convenience of people being able to live where they want to go through mixed-use development.
"We don't want a district that's full of offices where everything shuts down after 5 o'clock, and we don't want it all residential where it's devoid of activity," Haluska said. "You really have to focus on that ground-floor experience where you're less worried about where the roofline is and you're more worried about 'what is this building going to be like if I walk past it?'"
One of the recommendations from the Planning Commission would provide bonuses measured in square footage rather than units to incentivize some affordable housing as part of the area and that 10% of the square footage should be affordable. 
As the city is currently working on finalizing its Comprehensive Plan, a housing policy and zoning rewrite, Haluska noted how the form based code fits in as part of that puzzle. 
"This is not a substitution for an affordable housing policy," he said. "This is a small piece of the puzzle. You're not going to concentrate [affordable housing] all in this area anyway, and as the city attorney said, there's efforts going on now to enrich it and take a broader approach."
As the council deferred action, NDS will coordinate with City Attorney John Blair over the course of the next few months to revisit the text of the ordinance while the Planning Commission works on the zoning map. Both will eventually be reexamined by the City Council.
Address: Strategic Investment Area south of the Downtown Mall

Scale: 80 acres

Affordability requirement: square footage vs unit-based development could contribute to affordable units

Amenities: publicly-accessible green space

Next steps: the City Council deferred action for the time being and referred a zoning map amendment to the Planning Commission