Southwood resident Rosemary Morris said her power bill has sometimes been more than $200.  The price point weighs heavily on the 73-year-old with chronic obstructive pulmonary disease who lives on a fixed income in the mobile home she has resided in for 27 years. 
"Oh my Lord, the power bill went up" she said as her oxygen machine hummed in the background. "And now the heat doesn't stay on as long as it used to. It used to run 24/7, all night and all day, and no matter what, the house was never really warm."
She detailed on Thursday the various levels of deterioration of her home over recent years and the perpetual cold drafts despite running the heat in the colder months. Now, the family photograph-adorned walls of her home better retain heated or cooled air, granting her comfort and a lower monthly bill, something she was able to share with community members the following day during a tour of retrofitted mobile homes in Albemarle County's Southwood community.
In recent months, Habitat for Humanity of Greater Charlottesville teamed up with Local Energy Alliance Program for a pilot program to retrofit mobile homes in Southwood. The work is nearing its completion, with 10 mobile homes receiving new or repaired insulation, heating and cooling systems and roofing, along with a weatherproofing treatment for drafty windows or doorways. On Friday, LEAP and Habitat hosted an event to give updates about the retrofits.
LEAP worked with Dominion Energy, the county, and an anonymous donation; Habitat helped facilitate the efforts. Recipients are expected to reduce their electricity usage by about 45% and save more than $1,000 per year, officials said. 
The pilot program aims to alleviate financial strains and discomfort at the participating homes, but it's only the beginning for the neighborhood. Habitat has the county's approval to redevelop Southwood into a mixed-income, mixed-use neighborhood. 
Upon learning about the retrofitting efforts, local companies offered to lend their hands. Local weatherization provider Creative Conservation insulated and sealed five additional homes, and local HVAC, plumbing and electrical contractor Fitch Services provided repairs for all the homes at a discounted rate.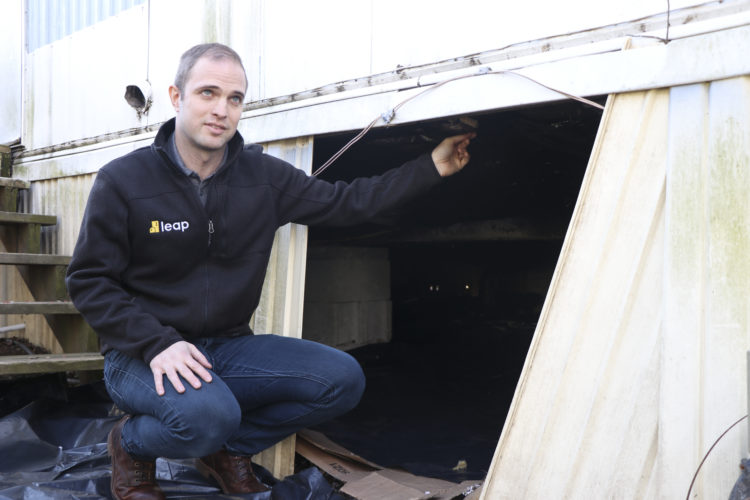 LEAP technical director Wilson Ratliff explains insulation installation beneath the floors of mobile homes.
Credit: Charlotte Rene Woods / Charlotte Rene Woods
On Friday, representatives from Habitat, Dominion Energy and LEAP, along with members of Charlottesville's and Albemarle's governments went on a tour that included Morris' home and the home of another participant, Isabel Fernandez. 
Fernandez, who was unavailable during the tour, relayed that her electricity bill already had been reduced by $70 dollars since LEAP's work on the insulation of her trailer. Now, with her recently replaced HVAC system, she expects her next bill to be even lower. 
Wilson Ratliff, a technical director with LEAP, said some residents in Southwood have experienced utility bills as high as $600. He also said that not all mobile homes are constructed with the same specifications. Fernandez's  home, constructed in the 1980s, had been designed for a climate warmer than that of Albemarle County in winter. 
For Fernandez's home, LEAP installed new insulation in her attic and the crawlspace under her trailer, a heat pump and LED lighting.
Morris' home received similar updates, allowing her and her grandson to remain in their home. Originally from the area, Morris moved around with her husband who worked as a lineman, which took them to many states before resettling in the area to be near her family. One of her cousins also lives in Southwood, and his trailer is in the midst of retrofits by LEAP, as well. 
During the tour of the neighborhood, LEAP Executive Director Chris Meyer pointed to an empty, dilapidated trailer and noted the safety and quality of life component to ensuring efficient energy use in the homes. 
With less efficient insulation and heating, Meyer said some residents had taken to warming themselves with kerosene heaters.
Remnants of a mobile home in Southwood are due to a kerosine heater.
Credit: Charlotte Rene Woods / Charlottesville Tomorrow
"This unfortunately was a trailer that burned down because the kerosene heater got knocked over, I think and that's one thing we want to avoid when we make these changes," Meyer said. "Again, we reduce the probability of this type of accident or tragedy happening."
Prior to the pilot program, Morris had considered other ways to better heat her trailer but realized kerosene heaters were not an option for her due to the oxygen tanks she relies on to help her breathe. Instead, she piled on blankets, socks and slippers, layers she has shed on occasion in the week since her trailer's retrofits have been completed. 
"They fixed every vent in here, because the bottoms of them had rusted out terribly," Morris said. "We were having a horrible time trying to keep the house warm. Now I can actually throw the cover off of me at night."
As for the overall redevelopment of Southwood, Rush Otis, who is the director of it for Habitat, said that next steps involve incremental county approval of site design plans and the phases of construction. She said that approval for designs could come this spring or summer, with groundbreaking beginning by the fall. 
As the LEAP-installed retrofits reduce energy costs and environmental impact for residents in the meantime, Otis noted the achieved goal of keeping residents in their homes while the larger redevelopment of the permanent neighborhood is underway. 
"Obviously, as Habitat, we purchased this park in 2007 with the goal of redevelopment and the core of that is non-displacement," Otis said. "A core part of non-displacement is that people can stay in this community for as long as possible until they're able to move into permanent housing. We will continue to echo these moves towards energy efficiency but being able to provide on-site housing until that permanent housing is available is critical so that this community stays intact and this neighborhood can continue to thrive."