Determined
This series uses the Social Determinants of Health as a foundational framework and guideposts to bring you stories of how the COVID-19 crisis has impacted some of our African American communities.
The Charlottesville Inclusive Media project and journalist Samantha Willis are revisiting the Determined series and to embark on a community storytelling project, "Still Determined," to contextualize and explore the immediate impacts and long-term effects of the COVID-19 pandemic on central Virginia. This multimodal storytelling project employs art by Sahara Clemons, audio-visual content by Lorenzo Dickerson and journalism to explore the realities of the pandemic, highlight stories of resilience and struggle and examine the possibilities and difficulties of building a stronger and more inclusive community.
Black and Latino people are dying disproportionately from COVID-19 in the Piedmont region. Why have so few been vaccinated?
Credit: Sahara Clemons
In the final month of the turbulent year 2020, Sandra Lindsay – a New York City critical care nurse, who also happens to be a Black woman – became the first American outside of clinical trials to receive the COVID-19 vaccine. Now, nearly two months later, Black Americans continue to die from the coronavirus at disproportionate rates, almost three times that of white Americans. Though Black people are impacted most severely by COVID, they make up less than 6% of the millions of Americans who've been vaccinated; Latino people account for only 11% of vaccinations in the country. In Charlottesville and the surrounding region, the statistics tell a similar story, and a chorus of community voices calls for change.
As of Feb. 5, the Blue Ridge Health District has administered 5,642 doses of the vaccine, according to a statement from Dr. Denise Bonds, director of the health district, in response to a Freedom of Information Act request from community advocate Myra Anderson. Of those vaccinated, 4,873 of those people were white and 426 were Black. Importantly, these numbers represent only the vaccines that BRHD has administered, not the total number of vaccines administered in the district; both the University of Virginia and Sentara Martha Jefferson hospital systems are coordinating their own vaccination efforts.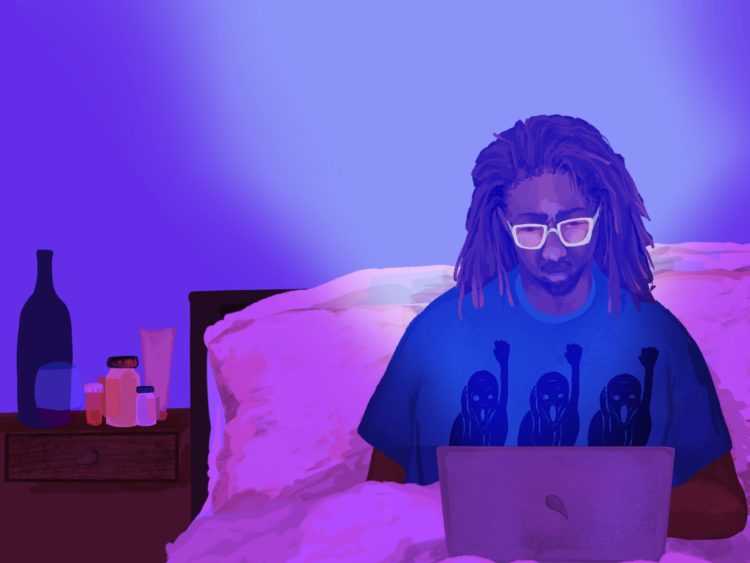 Credit: Sahara Clemons
As COVID-19 cases climbed last year, so too did the toll weigh heavier on Americans' mental and emotional health, and the struggle continues. As of Feb. 1, an estimated 36.9% of Virginia adults experienced symptoms of anxiety or depressive disorder, according to census data.
Navigating uncertain terrain amid lingering health and safety concerns remains a challenge for many. But for marginalized groups including Black and Latino communities, the pandemic exacerbates existing mental health risks stemming from systemic societal issues they've faced for generations, like racial discrimination and decreased access to health care. In Charlottesville, various means of mental health support services have been created or expanded in the wake of the virus, in an effort to promote mental and emotional wellness in local communities of color.
Credit: Sahara Clemons
Next Monday, March 8, Charlottesville City Schools' kindergarten through sixth-grade students will return to learn inside their school buildings. For many students, it will be the first time inside a physical classroom since Gov. Ralph Northam closed schools statewide in March 2020 to stem the spread of the coronavirus. While most middle and high school students will continue virtual learning for the time being, a small cohort will also go back to class in person, as school administrators, teachers and students prepare for the eventual return to school by prioritizing safety, academic advancement and equitable access to education for all young people.
During the coronavirus pandemic, 4,529 CCS students and teachers engaged in fully remote instruction, a process that has been admittedly tough for many teachers and students.
Credit: Sahara Clemons for Charlottesville Inclusive Media
Starting this week, the city of Charlottesville's Office of Economic Development will disburse $40,000 in grants to local small businesses, all of which are owned by people of color or women. The mini-grant program, facilitated through the city's Business Equity Fund, is the latest effort specifically designed to aid area business owners and employees recovering from the coronavirus pandemic's economic impact.
By the executive order of Gov. Ralph Northam, most nonessential businesses closed to the public to stem the spread of the virus. This order – which also closed public schools and banned public gatherings of more than 10 people – effectively gutted many small businesses statewide, including Black-, Hispanic- and Asian-owned businesses in Charlottesville and the surrounding counties. A December 2020 meeting of Virginia's Small Business Commission revealed that 27% of small businesses in the commonwealth closed either temporarily or permanently during the pandemic, with more than 40% of those businesses in the hospitality and leisure industries.
Credit: Sahara Clemons for Charlottesville Inclusive Media
Mayor Nikuyah Walker is comfortable speaking uncomfortable truths. Now in her fourth year in the role of Charlottesville's first Black female mayor, Walker has become accustomed to speaking her mind based on the facts as she sees them, without regard to who does or doesn't like what she has to say.
"Nothing has changed," is her straightforward response to the question of what meaningful change has taken place during her tenure.
"Mask Up." In our time of seclusion, we have been making efforts to find alternative ways to connect. In this digitized environment, however, these interactions are limited to our individual social spheres. We have not only lost the intimacy physical interactions provide but an awareness of adversities that people continue to experience and worsen in light of the pandemic. This piece embodies those who are facing further alienation and deprivation by COVID-19, and the collective efforts needed to overcome this virus: mask up.
Credit: Sahara Clemons